Dubuque Area Family STEM Festival
Families are invited to attend the Dubuque Area Family STEM Festival on Saturday, April 21 from 10:00 a.m. to 2:00 p.m. at the Clarke University, Kehl Center Gym. The festival is free and open to the public.
The goals of the festival are to promote, inspire and engage youth in Science, Technology, Engineering and Mathematics (STEM) activities and to introduce children and parents to STEM careers in their local communities.
Exhibits will feature interactive STEM activities for students and their families. Attendees can explore the galaxy by taking a tour through our solar system in a modern planetarium. In addition, they can control a robot, operate a flight simulator, disco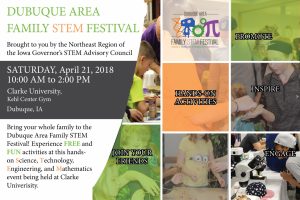 ver healthcare fields, conduct exciting scientific experiments, and much more!
The Dubuque Area Family STEM Festival is a community-wide partnership led by the Northeast Iowa Region Governor's STEM Advisory Council at the University of Northern Iowa, in partnership with Dubuque Area Labor-Management Council, Dubuque Community School District, Holy Family Catholic Schools, Dubuque Works, Northeast Iowa Community College, Iowa State University Extension, Clarke University, Loras College, University of Dubuque, IowaWORKS, Dubuque Metropolitan Area Solid Waste Agency, Keystone AEA and National Mississippi River Museum and Aquarium.
To learn more, please visit their  website at neiowastem.com.