Global adventurer, motivational speaker and philanthropist Leon Logothetis will speak at Prescott Elementary School at 6:30 p.m. on Thursday, Oct. 8, in the school's gymnasium. The event is open to the public and admission is free.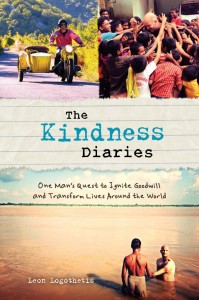 During his remarks, Logothetis will discuss kindness and the power of human connection. The author of "Amazing Adventures of a Nobody" and his new book "The Kindness Diaries," this former broker in London chose a life on the road in order to go from uninspired and chronically depressed to finding inner joy. His new passion is "finding ways for your inner rebel (that voice that tells you, you are worth so much more than you think) to come out and play."
Logothetis has visited more than 90 countries and traveled to every continent. He is the host of the TV series "Amazing Adventures of a Nobody," which is broadcast across the world by National Geographic International and, over the course of three seasons, sees Leon cross America, the United Kingdom and Europe on just 5 dollars, 5 pounds, and 5 euros a day, respectively.
For more information about the event, contact Prescott Elementary School at (563)552-4200. Media requesting more information should contact the DCSD School and Community Relations Office at (563)552-3020.